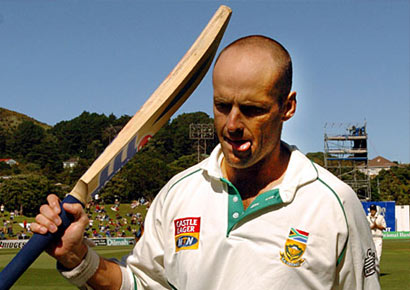 Gary Kirsten
By now, one must have heard, read and known a lot about India's World Cup win. But every word has not yet been said and every detail has not been disclosed. Gary Kirsten, the man behind the triumph, revealed some in Mumbai recently. At a gathering of elite business leaders, he came up with his side of the World Cup story.
So what led to the triumph? The creation of a happy environment, focus on the team's strengths than the opposition's, stress on the process and not the results, the realisation that playing for something bigger than their own thing and emphasis on preparation than performance…
Thus said Kirsten: "We created a sense of team and a sense of meaning that was bigger than an individual. That's what unfolded as we got to the three big knock-out games. You would notice that there weren't any huge individual performances. There were a lot of little contributions along the way. People were playing for something bigger than their own thing and it's great when a team plays that way."
At the gathering, organised by Ernst & Young, Kirsten did not just theorise the triumph. He made a few disclosures too. Gautam Gambhir, he said, lacked self confidence and Suresh Raina, he felt, won India the World Cup. Sachin Tendulkar, according to him, contemplated retirement. And Dhoni? Well, with the skipper, he would be prepared to go to the war.
"One word that comes to my mind about Dhoni's leadership is presence. I put the words — inspiration and presence — together, because I believe, I was in a position to inspire people through my work ethic whereas Dhoni was a leader for them through presence.
"I want to go to war with this guy," Kirsten said talking of the skipper.
"I have read that great leaders in the world give credit to others when things are going well and take responsibility when things are going badly. MS Dhoni is that to the 'T'."
Kirsten felt Dhoni is very unemotional and in that way very unIndian.
"Winning and losing don't mean a lot to him, he just gets on with it. He has this uncanny presence about him without saying much. People want to follow him, people want to go with him."
The former coach then revealed about the dressing room activity before Dhoni famously promoted himself in the final.
"I remember before the final that we had been floating him at No 5 or 6 in the batting order and Yuvraj was batting at No 4. Every now and then, I would walk up to him and ask whether we want to do any rotations? We had Randiv (Lankan spinner) bowling and it was tough for the left-handers. So, I just went up to him and said 'MS why don't you go in now'. And he said 'I don't know' and he walked away.
"If he had made a call, I would always leave him with that. The next thing I turn around and I see he has had his pads on. I asked him what's happening and he said 'I am in next,'" Kirsten revealed.
"And I knew straight away that he was going to win the World Cup for us. Because that's the individual he is. He has this x-factor and walks around with his presence."
Kirsten thought he and Dhoni had formed a great leadership combination. "I think what we were able to do is form a great leadership combination. The admirable thing is that in the three years that I was with him, he never lost his temper even once. We operate in a highly volatile and emotional environment and you always knew from the leader that he was never going to lose his temper but you knew he meant business when he had something to say."
Kirsten said Gambhir had to be reminded about his importance to the team. "Gautam is a serious and intense guy but lacks a bit of his own belief. And this is a great player, who ended up getting a 97 in the World Cup final and set up the game for us to win. I knew Gambhir was a crucial component to our team, and if he lacked self belief or had self doubts, then it was my responsibility. So, everytime I got on the team bus, I would give him that sense of affirmation of what he meant to the team."
Suresh Raina, according to the former coach, won India the World Cup with his showing against Australia. "He pretty much won the World Cup for us with that knock against the Australians in the quarterfinals. He had just played one game and then he went on and played the most responsible, mature knock and won us the game. For me, that was really a combination of years of making mistakes but learning along the way."
Kirsten said Tendulkar wanted to see a friend in him. "I will never forget the first interaction I had with each player. Sachin said just one line — 'I want you to be my friend'. It was a very powerful statement and only later did I understand it because you know when I look back, I felt 'gee that's easy, I can be a nice guy,' but that's not what he meant. He wanted me to be a genuine friend.
"As the three years with the Indian team unfolded,I began to realise what he was saying. The day before the World Cup final, his wife, Anjali, came to me and said 'I want to thank you for all that you have done for my husband'. And that's when I realised the effect of working with Sachin for three years. He had actually considered retiring from international cricket. He had some poor relations with the previous leader of the team."
Kirsten thought before he joined the team, the Indian team did not know how to prepare for a game.
"If I had to rate it out of 10, I thought the way the Indian players practised was about 1 or 2. Basically, what I realised was there was no connection between preparation and play. We just upped the ante on our preparation and we had real purpose to everything we did and then the Indian team probably became the hardest working and preparation team in the world. From 2 we went to 7 or 8."